I came across Jennifer's book through my love of Liberia Chimpanzee Rescue & Protection who were promoting it as they feature in it, I bought a copy, read it & now not only are Liberia Chimps the recipients of the raffle money raised, BOSF & Animals Asia who both feature in the book, will be at #TEAMEARTH, I loved it, as someone new to conservation, it was like a bible of amazing conservationists.
Jennifer has been great, I turn to her for advice & she gives freely, just as she has given a SIGNED copy of Rescuing Ladybugs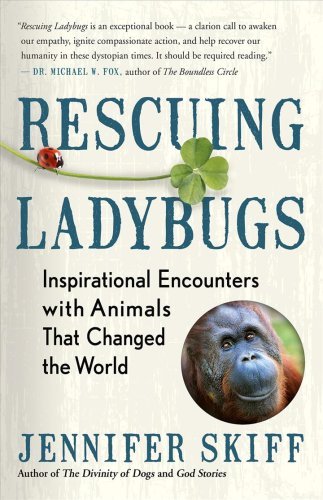 Countless times throughout our lives, we're presented with a choice to help another soul. Rescuing Ladybugs highlights the true stories of remarkable people who didn't look away from seemingly impossible-to-change situations and instead worked to save animals. Prepare to be transported to Borneo to release orangutans, Brazil to protect jaguars, Africa to connect with chimpanzees and elephants, the Maldives to free mantas, and Indonesia, the only place where dragons still exist in the wild
Jennifer has also given a signed copy of
WHAT DO YOU GET WHEN YOU ASK 101 ENVIRONMENTAL AND ANIMAL ADVOCATES THREE SEEMINGLY SIMPLE QUESTIONS?
 Dr. Jane Goodall, Dr. Sylvia Earle, Sir Richard Branson, Louie Psihoyos, Paul Hawken, Jean Olewang, Temple Grandin, Captain Paul Watson, Leilani Münter , Mélanie Gouby, Rick Ridgeway, Graham Hill, Elisabet Sautouris, Claudio Campagna, Robyn O'Brien, Bryant Terry, Tim Beatley, Richard Louv, Jonathan Balcombe, Marc Bekoff, Peggy Shepard, Gary E. Knell and 80 other planetary heroes
looks like another book I am going to have to invest in ~ noticed some great quotes !!
AND
Hand crafted Balinese Buddha Necklace
Thankyou Jennifer for this amazing bundle of gifts sent all the way from
AUSTRALIA
Koko Chimp ~ Steiff
Toy hedgehog  ~ Hedgehog Rescue
Cuddly fox ~ League Against Cruel Sports
Bee Bombs
Wrendale collectors' edition print ~ Packed Your Trunks
Bundle of four signed books & a cuddly toy ~ Animal Tails Charity Books
Dynasties signed by Professor Ben Garrod, Mike Gunton, Creative Director BBC NHU, Rosie Thomas, chimpanzee episode, Theo Webb, tiger episode
All proceeds of the raffle will go to helping Liberia Chimpanzee Rescue & Protection to build a sanctuary for their 35 (at the moment) babies orphaned by the illegal bush meat & pet trades
Tickets https://www.eventbrite.co.uk/e/teamearth-conservation-day-tickets-54097952432