The Vegan Land Movement CIC (VLM) was established to acquire land, especially that which has been previously used for animal agriculture and to repurpose it for the benefit of local ecosystems and its inhabitants. We buy monoculture grazing land and through rewilding, transform depleted fields into vibrant, biodiverse landscapes – effectively giving the land back to the Earth.
We believe that transforming the land is a powerful response to many of our urgent crises: climate change; biodiversity loss; disconnection from nature and animal exploitation. The Vegan Land Movement CIC (VLM) is premised on non-violent land use and includes veganic farming, such as community orchards, as well as compassionate conservation and rewilding.
We recently planted over 300 tree saplings on our first piece of purchased ex-grazing land in Somerset. Here is a link to this successful land buyout: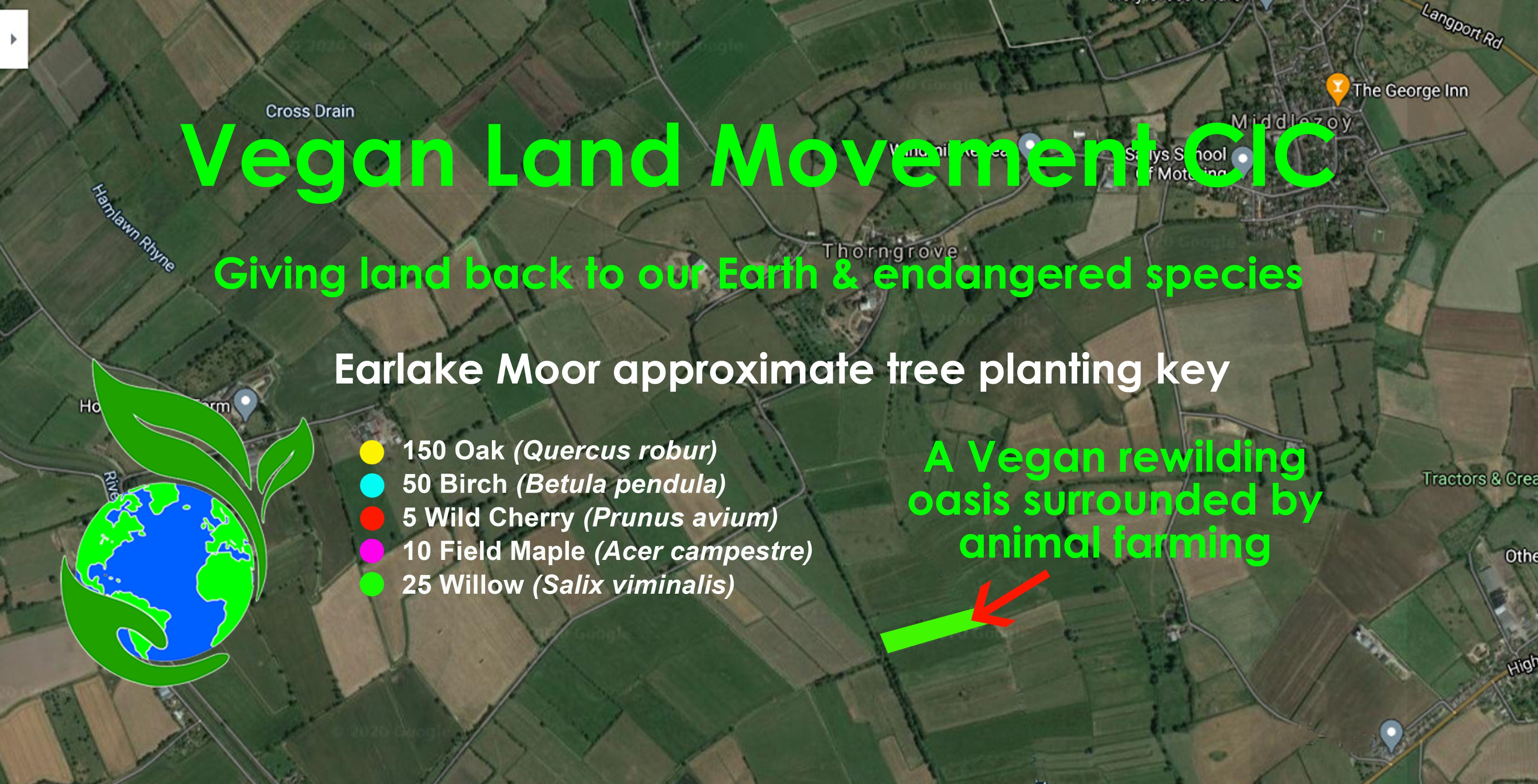 Our second project is another patch of dairy grazing pastureland, that we would like to give back to the earth and endangered wildlife. It is approximately 7 acres and has a guide price of £25,000 to £35,000. The auction date is 25th November.
This plot is ideal to be rewilded and/or possibly used to create a community veganic orchard project.
We believe that a small parcel of land such as this is an ideal way to showcase the possibilities of reclaiming land that has been laid waste by animal agriculture. We hope to show the enormous potential of collective vegan land buyouts.
But we need your help. This buyout is only possible if we pull together as a collective to make this happen. To achieve this, with the welcome addition of the starter amount accrued so far from VLM monthly subscriptions, we need 700 of us, donating a minimum of £50 each, to have a chance at winning this land at auction.
(We decided to lower the minimum donation amount from last year's £100 because of the possible effects of the pandemic on people's financial situations and to hopefully include more people wishing to be a part of this exciting project.)
Please help us at this critical time for the planet, do something positive to help mitigate the effects of climate change and to help boost our dwindling biodiversity.
https://globalvegancrowdfunder.org/dairy-grazing-land-buyout/
A great initiative & one worth helping if you can